June 12, 2008

Barns: Our Disappearing Heritage
When I pick up my mail in Chisholm Township I can look at a barn across the road that housed cattle for decades until recently. Many of the old barns in the area have fallen down or been sold for their materials and others are falling apart. It's sad to see these large buildings that served families for generations disappear. Fortunately with hobby farmers moving in and the influx of Amish farmers in Chisholm some barns are enjoying a new life and several new barns have been built.
Doug

Mackey picking up mail with Livingstone barn in background on Maple Road, Chisholm Township. E. Mackey photo
Barns have a fascinating history in terms of size, shape,and materials and historians are interested. I wrote an article in November 2001 about some of the variety of barns in a book on The Queen's Bush on former Crown Land in Grey & Bruce Counties. The book Barns of the Queen's Bush 2001, is by Jon Radoskovic. He published a new book in 2007 called The Golden Age of Barn Construction. He wrote it "to preserve a piece of our rural heritage that is quickly disappearing". This coffee table book is available for $35 at Indigo, or Amazon.com etc. or through your local bookstore or library.
A classic book on barns by Eric Sloane called An Age of Barns came out in the mid 1960s and may still be available at used book stores or online. It shows the wide variety of barns in the U.S. and all are shown as beautiful drawings by Sloane. The North Bay Library has a copy.
Remains

of Pioneer barn on

Laferriere

farm on Maple Road. D. Mackey photo D. Mackey

photo
The log barn shown here is owned by Francis Laferriere on Maple Road in Chisholm. It was hand hewn by his grandfather at the turn of the century to hold his animals and store feed. In later years, prior to removing a deteriorated roof and beams it was used for lumber storage. It has recently been sold for reconstruction on another site.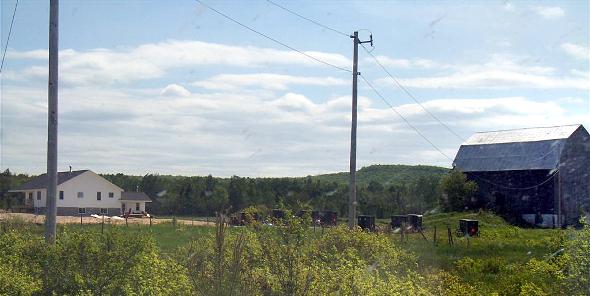 New Amish house with old barn on right with buggies of helpers on moving day recently.
To see my previous article on barns go to www.pastforward.ca/perspectives and follow index to Nov 2, 2001 and click on the title.
Reminiscence
As someone interested in history, dates sometimes trigger historical references. In the U.S. Democratic election race Hillary Clinton created a minor furor with a reference to the assassination of Robert F "Bobby" Kennedy 40 years ago last Friday. There has been a lot in the news about the assassination of this remarkable man.
I had a small but special connection with him while working on a Masters degree at the State University of New York in Buffalo. He was the Senator for New York State and attended the graduation for the Masters students on June 5, 1965. He gave an inspirational speech and shook hands with all the graduates including me. Three years later to the day while running for the Presidency, June 5, 1968, he was shot and died the next day. He was 42 years old. President Johnston declared a national day of mourning on June 9. The story of his life has always been of interest. For more on his life logon to www.en.wikepedia.org/wiki/Robert_F_Kennedy
Daniel

Beauchamp and canoe on Explorers Point

Mattawa

. D. Mackey photo
Following

in Champlain's

Footsteps
The above event is a touristic experience organized by 5 francophone radio stations in conjunction with the 400th anniversary of the founding of Quebec city and the French presence in North America. Nine participant winners of a Direction Ontario competition will have the opportunity to follow Champlain's old route in 1615-16 to Huronia . The event runs from June 11 to 21.Look for them passing through North Bay
In another event Daniel Beauchamp's solo canoe trip from SS.Marie to Ottawa brought him to Mattawa June 4th for a couple of days. By coincidence I was visiting the Mattawa Museum when he dropped in after setting up camp on Explorer's Point. I had just finished talking with the Museum Board Chair, historian Jack Walen about the remarkable 94-year-old William Commanda who attended the special Anahareo birthday celebration at the museum 2 years ago. Jack had attended a special sacred pipe ceremony featuring Commanda on Victoria Island at the Sacred Chaudiere site behind the Parliament Building in 2006. Daniel ,by coincidence, announced that Commanda and his son were his mentors and that he was going to arrive in Ottawa in time for the same sacred pipe ceremony June 21. We chatted, took his photo and showed him around the museum. He recounted the heavy waves on Lake Nipissing and the portages on the LaVase Portages and the Mattawa River. He vists Commanda in Manawki Quebec at the annual Circle of All Nations event there each year. You can Google" Danielle Beauchamp" on line or cell phone at 819-925-9777 , and you can see the Circle of Nations event by Googling" William Commanda." Daniel's brother and 3 companions are also traveling in a group to the pipe ceremony and will join Daniel and others there on June 21 passing through North Bay and Mattawa on the way